Renovations
A Labour Of Love
Renovation
Pianos can be restored in sections to avoid a huge bill.
Keys...... action........ strings.......... casework. For one or two the piano need not be moved.
How Much Does It Cost?
It depends on the piano and what is wrong with it. New quality key covers cost c. £400 Re-stringing with new strings, felts, etc c. £3,200 Action: From c.£300 - £3,000 Casework: For a good wipe over with french polish including sorting out the worst "dings" £1,000. More for full jobs and polyestering. Moving costs are extra. There is NO VAT.
Do You Give Condition Reports / Estimates?
Preparing a full condition report and estimate takes about eight hours plus travelling to and from the pianos home. I offer this service free for regular customers but elsewhere in the UK I charge £250 + 50p a mile over 80 miles. This is refundable if the work is carried out.
Is Your Work Guaranteed?
All work is guaranteed for 12 months including parts and labour.
How Long Will The Piano Be Away?
Due to the artistic nature of the work pianos will need to be away for 4-6 months, depending on what work needs doing. I can hire you a piano while the work is being done.
TUNING THE CUSTOMER FIRST AND THE PIANO SECOND!
---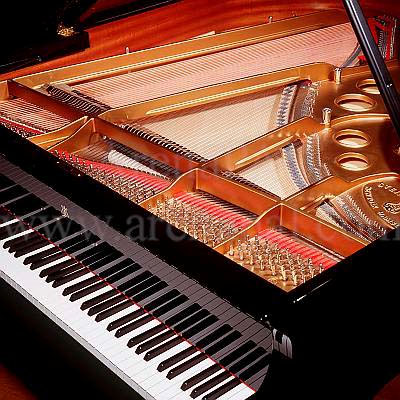 A fully restored
Steinway grand piano
---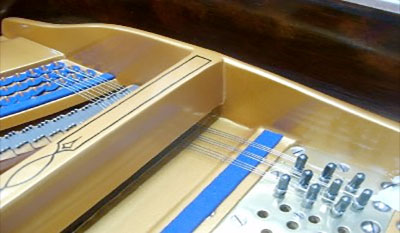 Bluthner Grand Piano during stringing
---
Peter Tryon
Peter Tryon FMCM., FASC., ARCM., ALCM., AVCM., Cert Ed.
40+ years experience. Regular visits across the county plus parts of Norfolk, Essex, Warwickshire and Scotland (Dumfries area). Tuner for the National Trust, Cambridge University, Forestry Commission outdoor concerts, Suffolk County Council schools, many private schools, piano teachers, etc.
Fully enhanced CRB check and fully insured with £5,000,000 public liability.
Our Contacts
9 Green Close, Drinkstone,
Bury St Edmunds Suffolk IP30 9TE